Main
Pilots and Civilians
Mecha
Fanfic
Fanart
Blond Over Blue
A Minor Variation
AU Gundam

About Site & Artist
Thanks
Guestbook
Links

Disney's The Hunchback
of Notre Dame
Fanfic Archives

Art Gallery
---
"Well, well, well. . .
What have we here?"
Ah, my friend, it seems you have come upon
Clopin's Gypsy Band!
---
This is Clopin's Gypsy band, a group of fans for the gypsy puppeteer of Disney's Hunchback of Notre Dame. Here is where we gather to share all our tales of the "King of the Gypsies".


Maintainer's Note: As of 3/28/08, all non-working URLs have been removed. If you had a link on your name, please let me know the new URL!


The first group you see are the female admirers, the Members of Clopin's Harem: Have you heard of the "Parallel Universe" theory? Well, that is the way Clopin can have so many lady friends and not have to choose favorites! :)


Shiri CHM #1 Samira, the Stargazer


Sue CHM #2 Manon


Karen CHM #3 Therese


Alikhat CHM #4


Karen L. CHM #5 Huguette, the Baker's Wife


Jennifer B. CHM #6 Zelda


JennyR. CHM #7 Rosa the Stage Performer


Laurie CHM #8 Carmenita, puppeteer in training


Cara CHM #9 Zahara, dancer, who really likes Phoebus


Nicole CHM #10 Mirage, the artist.


Belle CHM #11


S.B. CHM #12 Sovereign Brigand


Sarah CHM #13


Mariana CHM #14 Isabel


Allison M CHM #15


Jennat CHM #16 Elisabetta, a dancer and a singer


Serena CHM #17 Serinae


Sara CHM #18


Dorraine CHM #19 Rai, singer, dancer, story-weaver, temptress


Rayne CHM #20 S.B.'s sister, the Story Girl


Lowri CHM #21, the Celt


Okami-chan CHM #22, thief and violinist


Melissa CHM #23 Clopin's BEST friend, artist and his assistant puppeteer


Crystal CHM #24 Tereina the gypsy dancer


Abbi CHM #25 Irea


Melodie CHM #26 Kat


Jessica CHM #27 Fantine, acrobat and user of ancient magick


Wendy CHM #28 Jacqi-Emerald, story teller, singer, dancer, trouble maker


Jenny R. CHM #29 gypsy dancer


Candy CHM #30 Candy Deurbota, loner, dancer


Megan CHM #31 Mirette the seamstress


B. CHM #32 Sapphire, singer, troublemaker and traveler


Ariel P. CHM #33, magician, trickster and all round nice gal


Vickie CHM #34 Valshea


Sha'uri CHM #35


Alana CHM #36


Ariel C. CHM #37 Isabella-hypnotist, snake charmer and master con artist


Amber R. CHM #38 Elbereth


Callisto CHM #39


Melissa T. CHM #40


Angela K. CHM #41 Claire de Lune


Melissa I. CHM #42


Felina CHM #43, a champion equestrian


Kate S. CHM #44, sketcher and actress


Barbrett CHM #45 Kiwi, Generally just frolics around with her BEST friend Clopin!


Erin A. CHM #46 Naryscha Romaíne, Gypsy Jokester


Susan M. CHM #47 Coquirie, herbalist, midwife, potion-brewer, lutist and player of Strip Tarot


Allison H. CHM #48 Wylla


Leslie CHM #49 Kalindra


Debbie W. CHM #50 Deby, the psuedo HT queen, tarot reading in the hotsprings, looks out for falcons


H.B. CHM #51 "L|TTLE CLOP|N"


Liz V. CHM #52 Lyssya, a bard


Alexandra R. CHM #53


Nastasha CHM #54 a singer, practitioner of magic and acrobat


Maria G. CHM #55 Gyspsy Dancer


Delphine CHM #56, dreamer, trickster, and Clopin's loyalest (and favorite) apprentice


Suzie B. CHM #57 Sari, a world-traveling street musician


Yakkette CHM #58 Hotaru, the charming trickster/con artist


Missu J. CHM #59 Jhrinti, the wandering minstrel/pickpocket


Jen W. CHM #60 Kabuki


Emily J. CHM#61 Aria, singer, harpist and herbalist


LunaMarie CHM #62, thief, dancer, and trumpet player


Kate CHM #63 Jade, horseback rider, karate expert and when funds get low, pickpocket.


Erin CHM #64, a gypsy and Clopin lover


Meghan P. CHM #65 Raven, performer, storyteller, and thief


Jade CHM #66


Steph CHM #67 Musician, trickster, & thief


Renee CHM #68


Ashley CHM #69 Imerald, dancer and a thief


Dawn P. CHM #70


Bellamarina CHM #71


Erin G. CHM #72 Ariana, a skilled poet and tarot reader


Tina C. CHM #73


Isabelle B CHM #74


Alixandra CHM #75


Sacha CHM #76


Katia CHM #77 Aba'ya


Katie D. CHM #78 Trinity, warrior, storyteller and master of the art of mischief


Alissa CHM #79 Zephra, the entertainer


Alexandra CHM #80


Seana H. CHM #81


Jerry L. CHM #82


Katja R. CHM #83 Eloya, a painter


Christy CHM #84


Filippa CHM #85 expert horsewoman, archer, and seductress


Carol R. CHM #86 Alima, dancer, singer, flautist.


Caroline H. CHM #87 Aurora, actress, dancer, magic user, and Secret Admirer to Clopin


Kate T. CHM #88 Maria, beautiful gypsy dancing queen


Julie M. CHM #89 Sally, day dreamer and musical entertainer


Maaike B. CHM #90 a singer


Arica H. CHM #91 Artist, singer, plays the mandolin. Nothing special


Jessica H. CHM #92 Duchess, a singer and daring dancer


Courtney K. CHM #93 Morning Star, quick-sketch artist and troublemaker


Joy F. CHM #94 Marcelle, street urchin who has caught Clopin's heart


Wendy K. CHM #95 Celia, star-gazer, poet, artist


Delilah R. CHM #96, melodramatic young sarcastic actress madly in love with Clopin


Kahla B. CHM #97 Belldandy, sings, dances, puppeteer, hyper, loves Clopin


Sarah G. CHM #98 Magae, sassy storyteller loved and respected by all


Kitanna S. CHM #99 a real Russian Gypsy, dancer, star-gazer, singer, Clopin lover


Amanda B. CHM #100 Whisper, spy, clown, cook, writer


Mica W. CHM #101 time-traveler, and magick practitioner


Stephanie S. CHM #102 Sunyata, artist and mysterious girl seen in his dreams


Sarah H. CHM #103 Garak, musician


Robyn P. CHM #104


Christine R. CHM #105 Faye Gascoyne, stage performer, comdienne, musician, cheeky girl


Janelle K. CHM #106


Lacy R. CHM #107 Emelia, tall beautiful red-headed magician


Lisa B. CHM #108 Terenty, actress, dreamer, dancer, and of course palm reader


Cat S. CHM #109 Merlyn, bard, Irish dancer, singer, tin whistle player


Genipher K. CHM #110 Annaliese Wassic, time travelling, ren-faire loving, swordswoman extrodinaire


Elise A. CHM #111 Herlikin-Elise


Samantha S. CHM #112 Skye Purete, gypsy singer/dancer and magician


Petra L. CHM #113 "BellsND", Singer, artist, gypsy and stage-lover.


Scarlett L. CHM #114 Scarlett, dancer and protector


Jennifer P. CHM #115 Starla, Dancer (taught by Esmeralda), plays flute, and also does storytelling


Bernadette L. CHM #116 Emerald, gypsy, dancer and healer


Alexandra B CHM #117 Alexandra de Rosette - singer, actress, dancer, storyteller, poet


Loren H. CHM #118 Noomssim, Goddess of The Moon & Seductive Thief in the Shadows


Spet C. CHM #119 Antoinette/Sarabeth, fortune teller, singer, acrobat, flute player


Sara O. CHM #120 Crystol, disapearence and dancing


Jennifer B. CHM #121 Clarabella, beautiful, lonely, can sing, dance and write


Serendipity H. CHM #122 Noisette, firey temper, thinks Clopin's a shallow and egotistical pig. But cute.


Peggy K. CHM #123 Josephine, poet, storyteller, daydreamer


Sara B. CHM #124 Ravenessa de Marquis, a singer, painter, and talented con-artist


Amber CHM #125 Jade, a dancer, illusionist, stage performer, and a fighter


Keely A. CHM #126 Paulette, singer, entertainer, fun to be with, and good friends with Clopin
---

Clopin's Admirers the group for those who can't make up their mind which group to be in, or don't want to be a member of a harem...


Jennifer R. CA #1


Rachel L. CA #2


Calandra CA #3


Jeni R. CA #4, juggler, muscian, and teller of tales.


Dana R. CA #5


Renee D. CA #6 singer of songs and actress of comedies.


Valentine P. CA #7 Xayide, actress gypsy and first of Clopin's assistants


Cinna CA #8 mute, outcast, sneak and artist


Mary B. CA #9 "Dancing Peanut," Village Idiot


AdŽle H. CA #10 Erin, a singing and fluteplaying girl


Audrey B. CA #11


Jess C. CA #12


Isabella S. CA #13


Misty C. CA #14 Killian of the Iles, soldier and sea captian


Shen CA #15 Jo Ann, actress, dancer, great fighter, muse, sneaky thief


Kelly C. CA #16 Lackar Talis, an artist and a preformer


Wendy M. CA #17 Y'Dnew, artist, storyteller, keeper of all Disney knowledge


Angela D. CA #18 Cosette (nickname "Cay"), High Soprano and artist with a dark secret!!


Ethel G. CA #19 Marie Dolors, Former nun (but still Christian), herbseller, Clopin's faithful handmaiden


Megan T. CA #20 Keana Tabe, singer, bard


Becky W. CA #21 Adele, drifter, "philosopher", herbalist, alchemist, fire-breather/-eater, knife-thrower


Kelly O. CA #22 Alemeda, 18 year old lyrical dancer, singer of poetic ballads, and forever Quasi's


LauraS. CA #23 15-year old sneak, puppeteer, pickpocket, and vagabond


Ginger B. CA #24 Ginger, thief, juggler, and vocalist


Renee B. CA #25 Keskelome, singer, thief,Êand dancer


---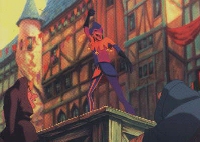 The second group, more for admiring Clopin's leadership, is Clopin's Secret Brigade

Rex CSB #1 FDC Clopin


Josh K. CSB #2


J.F. CSB #3 Jehan, tight-rope walker aka "The Noble Fool"


Brandon CSB #4 Aces, the magician


Jera CSB #5 rune caster


P.V. CSB #6 Partisan Vice


J.C. CSB #7 Jake Clawson, a very accomplished warrior


Timothy CSB #8 Velsruvis


John T. CSB #9 Peregrine -- Pippin for short; a bard and jack-of-all-trades


Donovan E CSB #10, the enchanter


Jen V. CSB #11 Maeve


Angie CSB #12 Caressa, QSG!


Christine G. CSB #13 Zora, singer, surviver and Clopin's loyalist friend


Eppie T. CSB #14 Cira


Michelle B CSB #15 Mirana, or Mira for short, Lady of Fire & Magic, Artist, and most importantly, Dreamer


Stella CSB #16, wizard and scribe


Meeks CSB #17


Julie CSB #18


Katy CSB #19 Neferella, singer


Solomon CSB #20, an artist and minstrel


Norm B. CSB #21 Zero, the Contortionist


Alicia R. CSB #22 Estella the Clever, singer, dancer and occational story-teller


Vu Le CSB #23 Aladdin


Patricia CSB #24 Jadzia, a gypsy spy


Sadira CSB #25


Suzzanne P. CSB #26


Owen CSB #27 Echade, your basic gifted gypsy that has some control over the elements


Aireen CSB #28


Mike C. CSB #29 Mr Jester


Dana R. CSB #30


Emily H CSB #31


Ralph V. CSB #32 a Disneyland Clopin!


Emma E. CSB #33 Bellatrix, a thief, spy and a cardmagician


Jared M. CSB #34 Etienne, piccolo player, excellent pickpocket, and dancing is his favorite thing to do


Magaret J. CSB #35 Elise, Etienne's twin sister (everything the same except plays the drum)


Michael B. CSB #36 Clopin in Disneyland's FOF!!


Lisa CSB #37 Cynara, the wanderer and singer


Shawna S. CSB #38 BeiLana, storyweaver, performer, apprentice dancer


Heather B CSB #39 Lupin, clever and cunning expert thief, master of disguise


Malaiya J. CSB #40


Angela S. CSB #41 Gabrielle A. R., mostly sings but will dance at times, master pic-pocket


Phoebe K. CSB #42 Chryse, bandit, highway-robber, trickster, bull-leaper


Fontine W. CSB #43 Lita WolfSong, writer, artist, poet


LW CSB #44 Maata, tarot card reader, dancer, illusionist


Andy N. CSB #45 Bernardo the Illusionist, trickster, street performer, magician


Jennifer H. CSB #46 Virginie, called "la demente", has fits of madness, loves Quasi


T. A. CSB #47 Teneve Roman, Naryscha's Brother, a nice guy


Jess D. CSB #48 Bala, storyteller and thief


Jennifer C. CSB #49 Gypsycat, cat who's a gypsy pet to clopin!


Troy H. CSB #50 Quincey, excellent spy, brave, trustworthy, obediant


Alanna D. CSB #51 Moira Rose, shady Irish vagabond, suppressed clairvoyant


Kulara T. CSB #52 Pick pocketer and keeper of the confetti cannons


Megan W. CSB #53 Marona, street artist--works sporadically in an art store for supplies


Kevin H. CSB #54 UltravioletLight


Kristina C. CSB #55 Grainne Liatran, juggeler, acrobat, always enjoys a good laugh


Theresa O. CSB #56 Columbine


Sorsha T. CSB #57 Med-jai, a palm reader.


Gayle G. CSB #58 Isis, mystic, can read minds, loves cats


LaDonna L. CSB #59 Lacy, artist, singer, trickster, and writer


Jazmin CSB #60 dancer and lover of music


Ashlee R. CSB #61 Raven, acrobat, dancer, and singer


---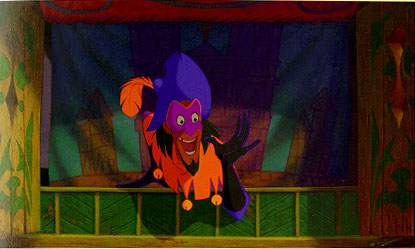 Honorary/Honored Members
(Chosen by the maintainer for the deeds she deems worthy)

Rayven DreamWalker who doesn't belong in a harem or brigade :)


Rex, maintainer of La Page de Clopin


Larissa, maintainer of Clopin's Tribe


Sue and Harley, maintainers of the Clopin Fanfic


Sara, maintainer of the Hunchback of Notre Dame webring


Irene, High Priestess of the Church of Clopin (east)


"Judge C" maintainer of The FrolloZone


Therese - defender of the forums!! And owner of the best tavern in Paris, the Goose And Grapes/Chez Therese :)


Lyssya - Savior of drawings!!


Tereina - Savior of pics!!


Azar, missing bard of the Court of Miracles...


CK - Puppet!! (also gone unaccounted for...)


Wylla!!


---
More info on Clopin here:
La Page de Clopin*
*Is where the Clopin images were borrowed from. :)

We always welcome new members, and you will be added as soon as possible after you send an email with the following information:
Your first name and last initial.
Your character name.
Your character's talents.
Which division of CGB you would like to be listed under (Clopin's Harem, Clopin's Admirers, Clopin's Secret Brigade).
Any other comments you would like to include.

Updated 3/28/08

---
Well, don't just sit there! Get over to Clopin's Tribe! You can't call yourself a fan of Clopin without joining both clubs! It shows how dedicated to Clopin you are! :) Clopin's Tribe is no longer being maintained, link kept for posterity.

---
Special thanks to all of those who inspired the creation of this page, and to CHM's #2 and #3 for the group titles!

---


Complementary Disclaimer: The characters of Clopin, Puppet, Esmeralda, Quasimodo, Pheobus, and Frollo are currently "owned" by Disney. All other characters, their designs, and stories are copyright ©1996-2008 to their respective authors, and cannot be reproduced without permission, and I appreciate this being respected.